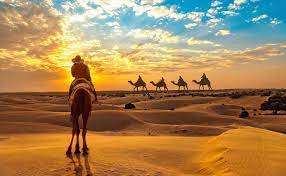 Winters are here, and the new year celebration is also around the corner, but do you have any plans for it? If not, this blog may sign you up to visit Jaisalmer.
Now you might be locating Jaisalmer in your mind. But we will make it relatively more accessible for you to relate to the city. Jaisalmer is a city in the state of Rajasthan, India. The city is also known as Golden city, situated in the heart of the Thar desert. So, if you are done visiting beaches and mountains, you need to answer this 'desert call'.
Jaisalmer is a popular tourist place that people visit between October and March. So, the peak season of this beautiful destination has arrived. But will it be easy to visit this season? Not exactly, but with the Jaisalmer tour package, you can explore the city easily.
Why Visit The Golden City?
Golden city, Jaisalmer, is not merely a popular tourist destination but a place where you can relate to and draw back to the history of India. This city has something for everyone, whether you love to explore, dig into history, are interested in architecture, like to do adventurous activities, or maybe anything else. In Jaisalmer, you can do anything and everything with the Jaisalmer tour package.
Some of the most popular places to visit in Jaisalmer are Tanot Mata Mandir, Jaisalmer fort, Sam dunes, Patwon ki haveli, Gadisar lake, Jain Temple, and Kuldhara village. You can also visit Nathmal ki haveli, desert national park, Vyas chhatri, Indo-Pak border, Jaisalmer war museum, Tazia tower, Bada bagh, Amar Sagar lake, Akal wood fossil park, desert culture center, and museum.
Jaisalmer has a lot to do. Like in this city, you can do dune bashing, quad biking, desert camping, camel safari, jeep safari, and parasailing.
One can also enjoy the famous desert festival, Rajasthani cuisine, folk music, and dance in this golden city along with the Jaisalmer tour package.
When To Visit Golden City?
Jaisalmer is an arid region, and that makes it experience extreme temperatures during summer and winter. The golden city's peak season is during the end of the year and the beginning of the new year. Three months at the year's end and three months at the beginning of the year (October to March) are the best time to visit Jaisalmer.
The Jaisalmer tour package is available throughout the year, but the prices might vary as per the season. If you are looking forward to exploring a lot of things in this beautiful city, then it is suggested to visit by the end of the year.
Guide To Choosing The Best Package For The Golden City
Travelling has become a part of our lives, and with time, it has become a more popular activity. With the changes in time, many things have also changed around us like earlier; there were a few tour packages. But now, you can find a variety of tour packages in the market. So, while choosing the best Jaisalmer tour package, here are a few things you should follow.
1. Search
Firstly, do not rely on and choose the tour package available in front of you. Instead, you should do a little research about the different tour packages available.
2. Look For Your Destination
While searching for different tour packages, you need to look for the package that offers packages for the destination you want to visit because many companies provide city or state-specific packages. So, before choosing a company, make sure they cover your destination.
3. Have A Look At The Coverage
Another important thing that you should consider is the coverage of the package. The Jaisalmer tour package covers accommodation, sightseeing, breakfast, and other stuff in their packages.
4. Coverage Of Days And Sightseeing Locations
When choosing a package, it is also essential to look after the days and sightseeing locations the package will cover.
You can opt for several packages, but if you want a short trip, that too only in the Golden city, then you can choose the Padharo Jaisalmer package. This package is for 2 nights and 3 days, and during this duration, it will try to cover all the essential destinations in the city. If you are planning long trips that can cover Jaisalmer and places around the golden city, you can also book packages.
But be sure of the number of holidays you need and where you have to visit in the city as all your requirements should be fulfilled through the Jaisalmer tour package.
5. Price Of The Package
Another important thing when choosing a tour package is its price. Every individual has their budget and plans, so you should look for packages that match your pocket to enjoy a tour within your budget.
Conclusion
The Jaisalmer tour package is the best option to explore the golden city, so book your package today and enjoy a memorable trip.
Jaisalmer Desert Camps are the most adventurous camps to enjoy to the fullest in the Golden city of Rajasthan.