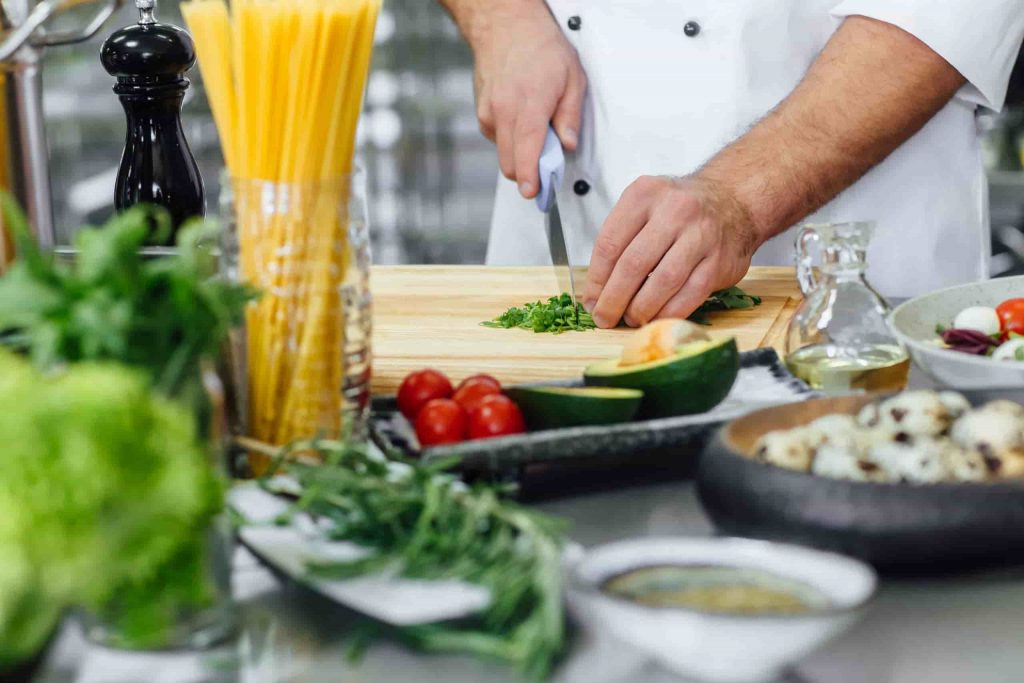 30 to 40 years back, when people heard about 'Chefs,' what kind of picture came to their minds? A man/woman is wearing a cross-back white-colored chef apron and preparing meals for the guests in the kitchen. That was it. The role of chefs was limited to the four walls of the kitchen. But when we look at the 21st century, we can see that the working area of chefs changed drastically. They wear many hats at the same time. We know the difference between a cook and a chef now.
Each wannabe chefs have the passion that helps them to dream bigger. Suppose you have a great cooking style. But does it make any difference from other wannabe chefs? What will make you unique? Your attitude, your skill of hands, hygiene standards, team management capacity, and so on. It is not a 9 to 5 job where you can go through files or work in front of a laptop.
Your mind should always be in a serene state so you can learn and experiment with each of the spices, herbs, sauce, syrups, puree, etc. You will always mix and match these ingredients with vegetables, meat, and dessert recipes to create unique and delectable dishes.
A hierarchy of chefs is maintained in the kitchen system of 5-star deluxe hotels. Everyone is not a head chef or assistant chef around there. Each kitchen staff has different responsibilities. Let dive deeper into the ocean of the kitchen industry.
1) Apprentice:
It is the lowest post in the industry. They are primarily the helpers who work under commis chefs. They learn how to prepare the food, maintain the hygiene standards, store the food supplies, etc.
2) Commis Chef:
When someone gathers a minimum of 3 years of experience, they can be a commis chef. Their job is to prepare meals for guests as advised by their head chefs. They also supervise the apprentices. It is considered to be a stepping stone towards a career in the kitchen industry.
3) Demi Chef de Partie:
They are also known as DCDP or demi chefs. One needs a minimum of 7 years of cooking experience from a renowned hotel to hold this post. They are assistant chefs who assist the station chefs with breakfast, lunch, and dinner. They learn how to plan menus, how to determine the right portion of food etc.
4) Chef de Partie: 
Chef de partie or CDP works for a single department. They are also known as station chefs. They need to be calm-minded. They should be great at team management and handling pressure. Proper communication skill is the key point that should be taken care of.
5) Sous Chef:
They work as assistant chefs. They are the right hand of the head chef. It is the second most important position in the kitchen industry. They maintain regular culinary operations inside the kitchen.
6) Chef de Cuisine:
CDC is known as head chef or executive chef. It is the topmost post in the hierarchy. They manage the entire kitchen of the hotel. They can maintain a group of chain hotels or a single kitchen.
The chefs have to manage the kitchen discipline, hygiene standards. They have to take feedback from guests. They know how to make a simple dish look appealing. They are not hiding behind the kitchen door anymore. Many chefs put their cooking shows on tv channels; some are active on Youtube. Even Netflix has made many documentary series worldwide. They are reaching the public in many ways.
Being a chef is not an easy task. It needs a lot of artistry. Every dish you create has to be extremely mouth-watering and presentable at the same time. You have to acquire theoretical knowledge as well.
Subhas Bose Institute of Hotel Management (SBIHM) trusts in the educational value behind every chef in the kitchen brigade system. This college is the best hotel management institute in Kolkata that offers a 2-year diploma, 3 years bachelor's degree, and 2 years Master's & MBA degree courses on hotel management. Apart from hotel management courses, SBIHM comes up with hospital management and hospitality management courses.
SBIHM knows that one can learn from working with other people. This college provides 6 months of industrial training in 5-star deluxe hotels. SBIHM is renowned for its highly qualified faculty and modern lab facilities. Subhas Bose Institute of Hotel Management stands tall with its well-furnished building in the lush green area of Newtown, Kolkata. This institute has tie-ups with multi-national companies all over India. SBIHM offers 100% guaranteed placement to the students. The college organizes outdoor activities, study tours, big events for the students.
If you want to turn your dreams into reality, then SBIHM is the right place for you. This institute will groom you throughout the course and help you achieve the highest peak of success in your career. Direct admission is going on for 2021-22. Do visit the office in Kolkata or apply for the admission form online.
These courses are adequate for a person to get a quality circumstance in organization occupations. admission in hotel management.