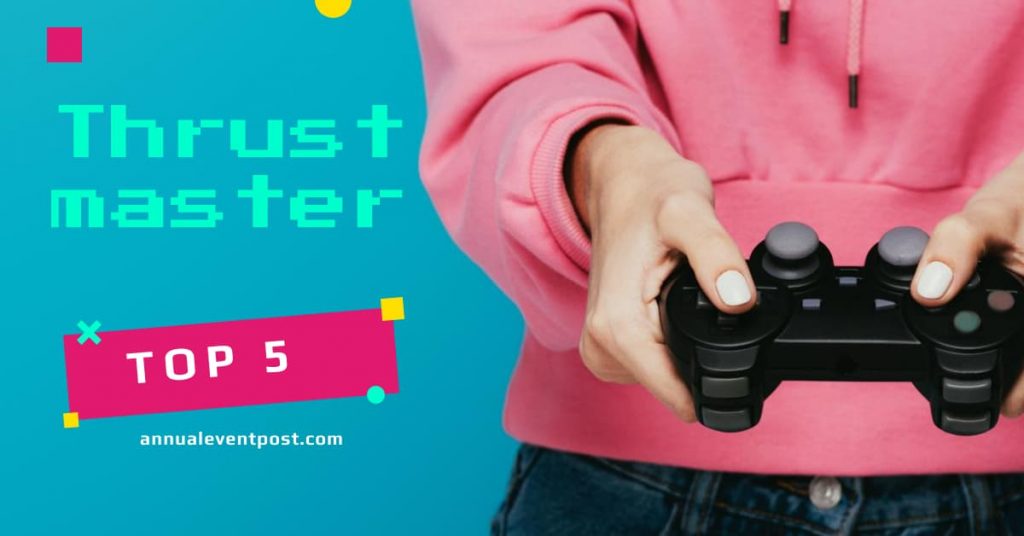 Thrustmaster is an American company that creates joysticks, game controllers, and steering wheels for PCs and video game consoles. It has licencing relationships with third-party brands such as Airbus, Ferrari, Gran Turismo, and the United States Air Force and licencing various Sony PlayStation and Microsoft Xbox products.
History
In 1990, Norm Winningstad assisted in the founding of Thrustmaster in Hillsboro, Oregon. The Thrustmaster Weapons Control System was first advertised in computer journals in early 1991. Its main focus was on establishing flight control for IBM Compatible Computer simulations. The business has used the HOTAS system in computer flight simulation and patterned parts of the controllers after real-world flight controls. In the 1990s, the firm built a name for itself by producing pricey but high-quality HOTAS controllers. By 1995, sales had risen to $15 million, and by 1998, they had risen to $25 million.
Thrustmaster T16000
Thrustmaster's T.16000M FCS HOTAS Flight Stick and Throttle is a joystick and throttle combination set designed for flight simulation games in both virtual and non-virtual situations. It has several hardware and software capabilities that help you have a smoother and more accurate experience, as well as putting many commands at your fingertips so you can easily navigate the sky. Furthermore, the joystick has interchangeable pieces that allow you to use it either left- or right-handed. When the going gets tough, use the TWSC throttle to accelerate out of tight positions or use its many buttons to unleash your armament on the enemy.
| | | |
| --- | --- | --- |
| | The T.16000M FCS HOTAS is compatible with PC via USB in Windows 10, 8, 7 and Vista (32-bit and 64-bit) | |
Features of Thrustmaster T16000
Smooth, precise, and relaxing
There are more than 20 programmable buttons
Multiple Control Axes
Buttons that can be programmed
Compatible with PCs running Windows
System Requirements: Windows 10, Windows 8, Windows 7, or Windows Vista (32- and 64-bit)
Thrustmaster T300
Thrustmaster's T300 RS GT Edition Racing Wheel puts the pedal to the metal. This Gran Turismo-licensed racing wheel and the pedal combo is designed for the PlayStation 4 and is compatible with both PlayStation 3 and Windows PCs. It has a metal wheel with rubber reinforcements for enhanced grip and fully adjustable pedals. The attachment system on the T300 is strong and versatile, and it works with all mounts, including workstations, tables, cockpits, and more, to guarantee that you have the best driving experience possible. The Thrustmaster Quick Release system also lets you swap out the racing wheel with other Thrustmaster products for even greater customization.
| | | |
| --- | --- | --- |
| | Official licensed PS4 / PS3 with automatic recognition by the PS4 system; Official PlayStation 4 buttons included Internal memory and upgradeable firmware | |
Features of Thrustmaster T300
Racing wheel detachable from 11″ (28cm)
Pedal Set from T3PA GT Edition
Force Feedback at a 1080 degree angle
13 Buttons & Directional Pad
Accurate Technology with Hall Effect
Buttons for PS4 (Official)
PS3, PS4, and PC compatibility
Thrustmaster T150
Thrustmaster's T150 Force Feedback Racing Wheel allows you to rip down straightaways and drift through bends. With Immersion TouchSense Technology, the T150 features a 1080° force feedback base that lets you experience every element of the road or track while driving, such as relief, tyre grip loss, braking, bumps, and crashes. The wheel feels fluid and creates little noise due to the combination belt-pulley and gear system.
This racing wheel features a sliding switch for compatibility with both PlayStation 3 and PlayStation 4 consoles and a downloadable driver for Windows PCs from the Thrustmaster website. It includes thirteen action buttons, a D-pad, and two sequential paddle shifters made of metal. The wheel comes with a huge pedal set with a wide footrest, and the inclination angle of each pedal and the progressive resistance of the brake pedal can be modified.
| | | |
| --- | --- | --- |
| | Official Racing Simulator for PS4 and PS3 (also compatible with PC); 1080 degree force feedback racing wheel; Built-in PS4/PS3 sliding switch; Realistic 11"/28 centimeter wheel; Large pedal set included | |
Features of Thrustmaster T150
Haptic Force Feedback Response
Rotation of the wheels from 270 to 1080 degrees
D-Pad and 13 Action Buttons
Two paddle shifters mounted on the wheel
Pedal Set (Large and Optimized)
Playable on PS3, PS4, and Windows PCs
Thrustmaster T80
The Thrustmaster T80 Racing Wheel is a PlayStation 3 and PlayStation 4 racing wheel. There is a wheel and pedal set included. The wheel's grip features a rubber texture covering to prevent your hands from sliding while playing. On the steering wheel, there are two sequential digital gear change paddles, 11 action buttons, and a D-Pad. It includes a sensitivity control for precise driving. The angle of inclination for each pedal in this pedal set, which comprises two pedals with a wide footrest, may be adjusted. The brake pedal has progressive resistance for added realism. Furthermore, the wide jaws of the central clamping mechanism offer stability with a range of desks and tables.
Product manufactured under official PlayStation license.
Wheel grip with rubber texture coating.

Features of Thrustmaster T80
For racing games on the PS3 and PS4
PlayStation's official licence
Set of Pedals and Wheels
Texture Grip with Rubber
Gear Shift Paddles in Sequence
D-Pad plus 11 Action Buttons
Pedals with Adjustable Inclination
Progressive Resistance in the Brake Pedal
Thrustmaster T500
Thrustmaster's T500 RS GT5 Racing Wheel is a force feedback racing wheel that lets you fully immerse yourself in any PC or Playstation 3 racing game. The T500 RS GT5, officially licenced by Gran Turismo and Playstation, comes with various realistic features, an all-metal construction, and a large 36.4-pound weight. Three pedals, two gearshift levers, a D-Pad, and 13 buttons, including a home button for your PS3 console, are included in the steering wheel.
The wheel's rotation angle can be adjusted up to 1080° (three full spins), and it calibrates itself when the mains adapter and USB connector are connected. To meet your gaming style and ergonomic needs, adjust the pedal height between four different locations for the acceleration pedal, two for the brake pedal, and two for the clutch pedal. The accompanying Allen key can be used to change the spacing between three places for the accelerator, three positions for the brake, and three positions for the clutch pedal. You may also modify the tilt using the provided Allen key, selecting from two positions for the accelerator, two for the brake, and two for the clutch pedal.
You can enable distinct sensations and resistance when braking with the "Realistic Brake" mod. You can put it against the top or lower wall for varying levels of resistance, depending on your preferences. Long travel (resistance approximately 22 pounds), medium travel (resistance around 18.7 pounds), and short travel (resistance around 18.7 pounds) are the three options for setting the travel or resistance position (resistance around 15.4 pounds).
| | | |
| --- | --- | --- |
| | Gran Turismo and Playstation4 / Playstation3 officially licensed racing wheel. | |
Features of Thrustmaster T500
Gran Turismo & PS4 Officially Licensed
D-Pad, 3 Adjustable Pedals, and 13 Buttons
Metal Spokes on an Authentic 12″ Wheel
Gearshift Levers in Sequence
Effects of Force Feedback
Up to 1080° rotational angle
PS3 and PC compatibility
Non-slip grating on a metal footrest.
Technology HEART
Also Check Best Hotas for Elite Dangerous
Hi,I am Ahmad,I am content writer with expertise in article writing, content writing, blog post and  keyword research, On Page & Off Page SEO, Technical SEO, Content Marketing, Website content writing, SEO Content Writing etc. I have more than 5 years' experience of working in Content Marketing. I would deliver two things only Quality Service and Customer Satisfaction.