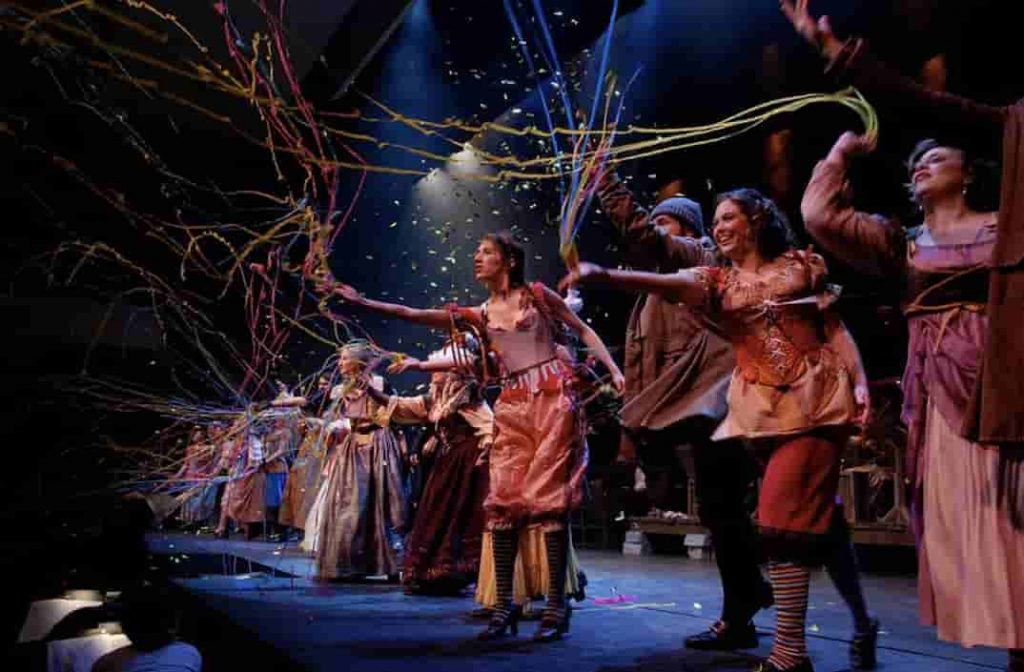 1. Bengtson's Pumpkin Fest
Located about 30 minutes from Chicago, this one is a wonderful event for the whole family! It's held annually on the Bengtson's Farm by the Illinois community, which has made firstly just a pumpkin patch and a farm an annual fall tradition. The Fest has many little things to keep children amused and busy – from walking through huge pumpkin patches (where you can purchase pumpkins and gourds) to children's carnival rides and scary houses (not too scary for all children, but still enough to have fun). The highlight is a very nice large petting area, where children can get close to feeding the small farm animals!
But don't worry, not only kids have fun there. We assure you that you'd have a blast being here! Among activities, there are enough for the almost all ages: Barnyard Dance Cow Coaster, Bengtson's Barrel Blast, and the favorite one, 90′ Mega Fun Slide!
You might be worried about getting to different places successfully and quickly. In that case, we recommend using Illinois car rental age-lowered services, where you could pick up under 25 rental cars according to your preferences.
2. Superman Celebration
Apart from the well-known Superman Museum officially opened in 1993, here, in Metropolis, a miraculous celebration for all DC fans takes place! The celebration is 3-days long and usually is held in the 2nd week of June. Of course, the fans of "The Man of Steel" worldwide take time off to get there and participate in this fancy event!
Being here is not only feeling the connection with the other people who share the same interests or showing off your costume, but also a rare opportunity to meet famous people who had a major hand in creating Superman's history. Matthew Clark, Tom Welling, Michael Rosenbaum, and George Newbern have already visited the celebration. Except above-mentioned, there are also different games throughout the week and entertainment, for example, a costume contest.
3. Fiesta del Sol
Started in 1973, and this year, the largest Mexican festival in the whole Midwestern part of the country. Called Fiesta del Sol will celebrate its 50th anniversary. Firstly, This event was dedicated to the local school opening. But then, it continued to celebrate Latino's thriving and colorful culture.
This family-friendly festival leaves a good impression over all 4 days! It gladly shares Mexican tradition: music, dance, cuisine, and even art! You can taste traditional burritos and tacos, buy clothing: rebozo, huipil, and dance to live music! Diverse attractions for youth and adults are also available! But that's not all; at the event, you can get valuable information from the community experts about immigration, education, housing, health, and more. Remember that you may rent cars for young drivers easily! Our partner 14cars.com offers a really wide choice.
4. Christkindlemarket
Suppose you happen to be in Illinois during the winter; you just have to visit Christkindlemarket – the perfect season activity for the whole family. Could you imagine that outside of Europe, this one is the most genuine traditional Christmas market of its kind? Still, its name is consonant with the Christkindlesmarkt, which was held in 16th century Germany not without reason. You could experience a feeling of indeed unique shopping, cross-cultural activities and a spirit of united German and European traditions only in this one place!
Tasty food, high-quality gifts, and a holiday cheer from every corner – what else is needed for the full entertainment? Right, to take your friends or family with you! Rent cars for young drivers without problems using the services mentioned above. Be sure to try local dishes such as hot apricot and almond strudel.
5. Great Galena Balloon Race
A breathtaking 3-days-long event that would leave great memories! Explore the horizons that you'd probably never met as close there. It's held annually, in the 3rd week of June, and every time it attracts many-many people. The race has 20+ hot air balloons, a spectacular night show, live music, and, what's unexpectable, a whole art show.
The last one is dedicated to the nature theme, and locals make the artworks. Almost every art can be bought. Street food and drinks are also available there as well as free parking. A traditional car show and interesting family games would capture your attention. Check the schedule of activities you'd like to witness the most, and don't take too many things with you. There are limits to the mass if you are going to have a flight.
Now you know what places to visit; though many events claim to be for the entire family, you still can enjoy them alone. Take care!