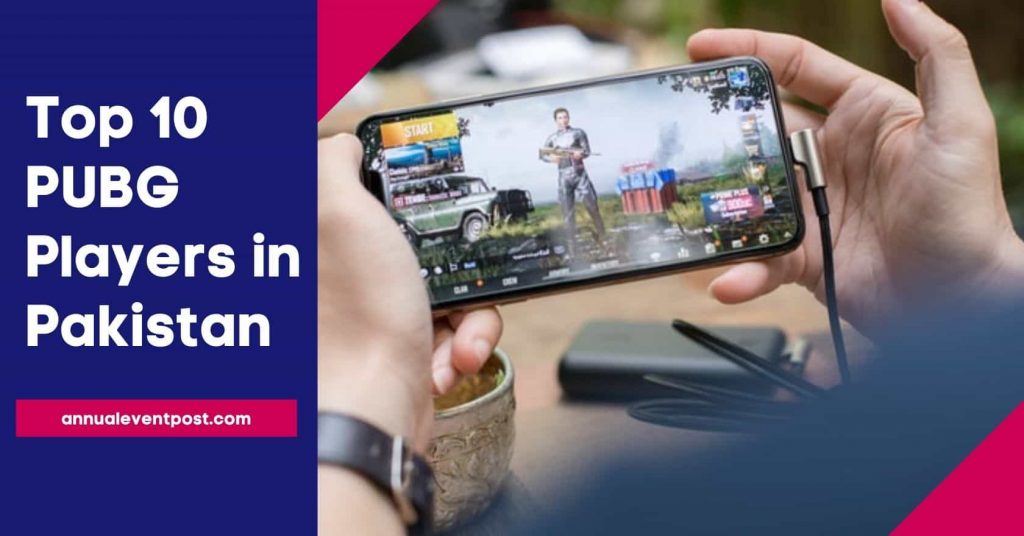 Who is the No 1 PUBG Player in Pakistan? You can find the best PUBG players in Pakistan here in this list of top 10 PUBG Players in Pakistan.
PUBG is, without a doubt, one of the most beloved and most played games in the gaming community. More than 100 million people have downloaded the PUBG video game. The top PUBG player in Pakistan has his own YouTube channel, which has a large following of other gamers and gamers' communities. It is widely believed that Star Anonymous is Pakistan's best PUBG player. Star Anonymous is a well-known PUBG player in Pakistan in 2021, and his actual name is Mubeen. He was born in Rawalpindi, Pakistan.
The popularity of online gaming has exploded in the last few years. The year 2021 will go down in history as one of the most memorable years for internet gaming. When everyone was confined indoors and had to find new hobbies, they turned to video games. Depending on your perspective, gaming may be both soothing and exhilarating. The sort of game you want to play is ultimately what determines your experience. There are horror enthusiasts, and then there are gamers who just like to have fun.
Here is a Quick List of the Top 10 PUBG Players in Pakistan
Star AnonymousPredator
Predator
Ahmad Op
47 Khalifa
Cute Panda
Mr Jay Plays
Solo King
Doctor Pikachu
Khalfan
SP Joker
Detail of Top 10 PUBG Players in Pakistan
1. Star Anonymous
Star Anonymous is a well-known PUBG player in the gaming world. He has a YouTube channel with more than 1.84 million subscribers, and it's proliferating. He began his YouTube channel in 2017 and has a sizable following. PUBG is the subject of many of his YouTube videos, and he also provides a great deal of advice to his fans. He's Pakistan's greatest PUBG player because of his innovative techniques.
2. Predator
Predator is also a skilled PUBG player. He'd taken part in PUBG Mobile Leagues before. He's a seasoned pro in the professional gaming world. He lives in Peshawar, and his original name is Zubair Khan. He is Pakistan's No. 2 PUBG Mobile Player. About 482,000 people have subscribed to him on YouTube. Fyme is the name of Predator's PUBG Clan, and he is the Clan Leader. As a result, he is unquestionably one of Pakistan's top PUBG players.
3. Ahmad Op
Ahmad Op, now famous as legend Ahmad, lives in Lahore, Pakistan. He has a YouTube channel with over 430k subscribers, and he's pretty successful. As of 2018, he began his YouTube channel and has been a great player since then. Ahmad Rana is his real name.
4. 47 Khalifa
47 Khalifa is well-known for his sniping proficiency and is, without a doubt, one of Pakistan's top 10 PUBG players. He also has a YouTube channel, which has a following of over 560k people. In real life, he was known by Osama Qayyum, and he is the head of 47 clans.
5. Cute Panda
Cute Panda is a well-known TikToker and YouTuber that plays PUBG. He's a Pakistani, lives in Karachi. He got his start on TikTok and is now a famous name. He's the head of the 2nd Roar Clan and has over 392k subscribers on YouTube.
6. Mr Jay Plays
He's one of Pakistan's top PUBG gamers and lives in London, England (UK). He started his YouTube account in 2012 and currently has over 436,000 followers. Raptor is the name of his clan, and it's pretty well-known in Pakistan. In real life, he was known by the name Jahanzaib.
7. Solo King
Solo Kings' actual name is Jawad Ali, and he's unquestionably one of the best players in the game. He owns Pakistan's best PUBG Mobile inventory. He's well-known not only on YouTube but also on the TikTok app. And he's got over 300k subscribers on his YouTube account. He's a member of the SOLOGAMING clan, where he serves as the clan's chief.
8. Doctor Pikachu
In Pakistan, Doctor Pikachu is one of the top 10 PUBG players, with a YouTube channel of over 281,00 subscribers. She is a member of the Doctorz clan, and she is the clan's leader. Her actual name is Syeda Mariyam.
9. Khalfan
Khalfan is Pakistan's most well-known PUBG player, with over 227k YouTube subscribers. He is a very skilful PUBG player.
10. SP Joker
Pakistani-born SP Joker has the real name Malik Ahmad and is from the Sargodha region. Over 240k people have subscribed to his YouTube channel, where he uploads gameplay videos and streams PUBG live. SP Esports is the name of his clan.
Afzal Ahmad has a solid history in creating fascinating material that offers genuine value to a blog, website or company. He's a nerd of sports and he likes talking about sports.