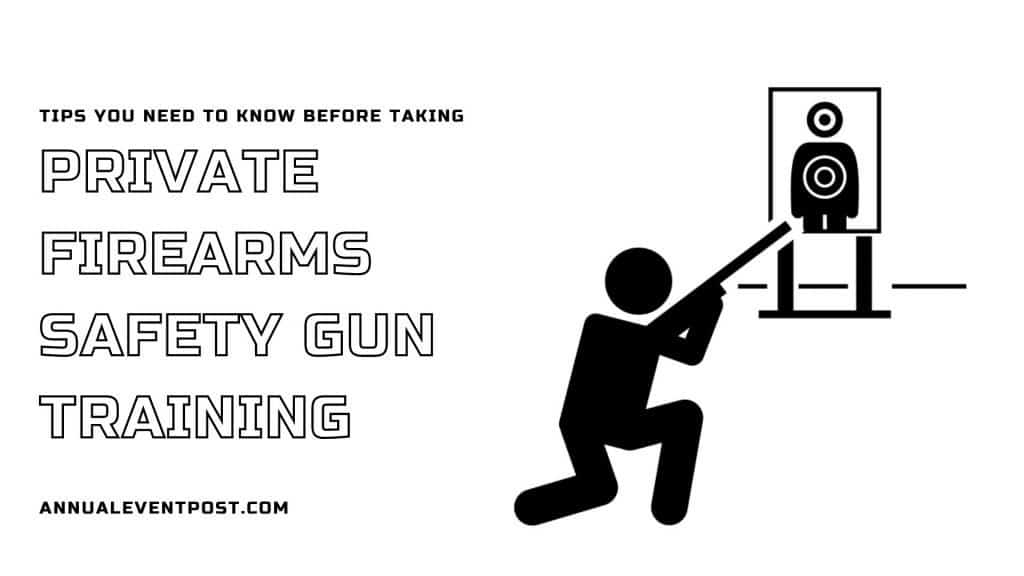 Nowadays, it is beneficial to take safety gun training regarding self-defense for everyone. You need to know proper gripping, safe handling, basic mechanisms, and shooting range of firearms to use them with perfection. No doubt that your little mistake can lead to fatal. So, you have to be aware of some factors while using handguns safely. We have enlisted ten safety tips you should follow whether you are taking private firearms safety gun training. The following article might appear to be helpful to you if you are a newcomer in gun safety training courses.
1. Try to keep your muzzle pointed towards a safe direction:
It is a crucial basic safety rule. If everyone points their muzzle towards a safe indication and never tries to point towards the thing they don't want to shoot, no firearms-related accidents will occur. Safe direction denotes the direction where the bullet of the gun can not strike anyone.
The mishap generally happens during the loading or unloading of a firearm. In the means time, your gun gets pointed at the thing you don't want to shoot. So, always stay cautious when you are about to load or unload your weapon.
2. You should unload your firearms while you are not using them:
Always try to keep your gun unloaded when you are not using the weapon. It would be best to load firearms only when you are about to shoot your targeted area. In other times, firearms need to be store in a secure place. Firearms and bullets should be kept separated from one another securely. It is the owner's responsibility to prohibit children and unlicensed adults from accessing guns.
3. Confirm your target always before shooting:
Once you have fired a gun, no one could stop the bullet. So, always confirm the target before shooting to avoid unwanted accidents. Make sure where your bolt is going to strike after firing.
It would be best if you take your time before pulling the trigger to know your target exactly. Furthermore, you should be aware of how far a bullet can go if it misses the target.
4. Use suitable ammunition
Always read out the instruction manual of your gun and the content on the ammunition boxes. You have to use appropriate ammunition only for your handgun.
If you use improper ammunition, it may cause fatal injury and critical damage to your gun. Every firearm is designed and manufactured according to its standard ammunition. So, the use of a single improper calibercan malfunction your firearm.
5. Safety:
Never handle your gun causally. The safety catch of a handgun does not need to work every time. So, we will suggest not to pull the trigger until you are ready to shoot. You must try to keep your finger far away from the trigger during the loading and unloading of your gun.
6. Wear Ear and Eye protection:
Always wear Ear and Eye protection glasses when you are firing your gun. Wearing eye protection will help you to avoid the exposure and sound of shooting damages.
It would be best if you wear eye protection during the cleaning and dissembling of any gun. It protects your eyes from spring tension parts, solvents, and other agents that are used during gun cleaning.
7. Make sure that the Barrel has no obstruction:
Always ensure that the magazine has no obstruction before shooting. The calibre can burst out during the firing if a little bit of snow, mud, or oil grease presents inside the barrel. Always try to clean the bore with a cleaning rod before you shoot.
8. Handle with care:
Sometimes it happens that the bullet is not fired when after pulling the trigger. Therefore, you should keep your muzzle pointed towards the safe direction. Then open the action carefully and unload the firearm to discard the calibre.
9. Learn the mechanism of the handgun:
You should know that all firearms are not the same. The carrying and handling of firearms depend on the mechanical characteristics of a gun. You should read the mechanical features of a gun, including the type, safe handling, loading, unloading, cleaning techniques, etc.
10. Do the servicing of your gun regularly:
Your firearm is also a technical device. It will not remain in its original condition forever. So, never forget to do the recommended service of your gun regularly. Moreover, do not try to modify your firearm as it can be dangerous!
Afzal Ahmad has a solid history in creating fascinating material that offers genuine value to a blog, website or company. He's a nerd of sports and he likes talking about sports.