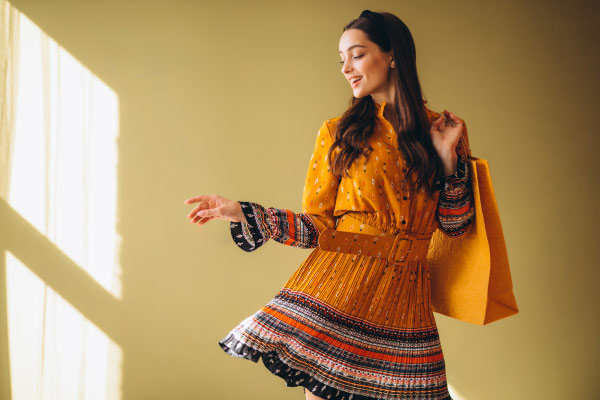 If Kurtis with designer cuts, stunning colours, and superb embroidery is your love, you will enjoy exploring the catalog of Inaya Kurtis. It's a famous and trusted brand that primarily sells designer Kurtis that are best for parties or special occasions.
Most of them will give you a Pakistani look with lighter shades of colour and long Kurtis, usually reaching your knees or toes. We browsed their catalog and found some fantastic new designs that you will fall in love with.
You will find fancy sleeves with net or chicken work, the Kurti will have cuts at the bottom, and the pajama will mostly be embroidered and give you a bell-bottom look. Inaya Kurtis is worth exploring if you want to get a completely new experience and if such clothing suits your dressing sense.
Why Inaya Kurtis is Famous
Indeed, customers especially ask for Inaya Kurtis, but how has the brand reached such a milestone? Let's understand this.
Material and Stitch Quality
With designs and embroidery, the brand offers a decent quality material for the price they charge. The colour won't fade even after multiple washes, the threads won't lose their place, and if you keep it with care, the Kurti will look like new for a long time. Even the stitch quality is perfect, and we haven't seen many complaints.
Stunning Designs and Embroidery
The brand is always ahead in following the trends to launch new and updated designs. Although some of their designs resemble each other, you can always get new options in designs and embroidery.
Affordable Pricing
You will find some of the best designs at an affordable price. It's not an expensive brand, and they usually don't increase their prices based on demand. If you are out of budget but still want to look stunning, Inaya Kurti is one of the best brands to look for options.
Latest Additions to the Catalogue
Inaya is an established brand with many options available. Still, we browsed the websites of a few wholesalers and retailers to check out the latest edition, and the results were fantastic. This Kurtis will instantly grab your attention.
Libas Eid Pret Fully Stitch Sharara
It's the latest addition to the brand where you find a long designer cut at the bottom of Kurti and a bell-bottom style pajama with floral embroidery. The design instantly grabbed our attention because of the colours. They were some of the new shades of light colours which will look perfect on a light skin complexion.
Even the material quality is good; Kurti is made of Pure Organza, the inner includes Pure Mal, and the bottom is stitched out of Imported Georgette. It is a readymade dress that doesn't require any stitching and is best for festival or party wear.
Inaya Hand Work Fancy Fabric
This Kurti includes a design made with crumbled cloth in between and a lightweight palazzo that doesn't stick to your skin and easily allows the air to pass. The sleeves include an extension of cloth material that gives you a fancy look. It is also a readymade designer dress that doesn't require stitching.
It includes a fancy fabric bottom and pure cotton satin work – handwork for the top. If you love Kurtis that people stitched using their hand and include the perfection, then this particular variant of Inaya Kurtis is worth exploring.
Inaya Studio Libas Barrasso Velvet Organza
If you are not afraid to experiment with your clothing, then Libas Barrasso is worth exploring. It's an entirely new design which we haven't seen before. It includes a short Kurti with triangular cuts at the end, and half of the Kurti from the top is covered with fantastic designs made with a net. The bottom doesn't include a pajama; instead, you get a designer skirt in shiny black color.
The cloth's overall fabric is Barrasso Velvet Organza; the inner is made of pure mal Silk. The skirt is stretchable, and you won't face any problems walking. You can find multiple colours in Kurtis, but the bottom is the same for all.
Conclusion 
Inaya Kurtis is famous for the fantastic designs they deliver at an affordable price. They continuously update their catalog with new and unique designs that no one can imagine. If you are the one who doesn't mind experimenting with your clothing, then check for multiple options that Inaya Kurtis has to provide, and you will never be out of options.
Moreover, you don't have to worry about quality as it's a famous brand that doesn't have many complaints about stitching or material quality. So be assured you will get the right product for your amount. You can easily place an online order for Inaya Kurtis on any online marketplace for wholesale and retail orders. Have you ever tried Inaya Kurtis? Please share your experience.
I am an SEO Professional. I write Quality and Informative articles that loved by users.