Summer is the best season to flaunt gemstone jewelry and your glorious skin. It is when one can wear most of the jewelry accessories and look cool chic. But, out of all the trendiest jewelry choices, have you heard about the Larimar jewelry? I am sure you must have, but if not, don't worry. In this blog, we will be discussing everything about this gemstone jewelry, from its meaning to the metaphysical properties to healing properties and caring tips. So, keep reading the entire blog to learn everything about the Larimar gemstone jewelry.
Meaning and history of Larimar 
The tranquility gem Larimar meaning denotes the sky and water of the Caribbean Sea, the place from where these stones have come from. Therefore, the only place to find these crystals is the Dominican Republic, as these crystals have an amazing history behind their formation. So, many million years ago, the volcano had erupted, and the splashes of the explosions were scattered everywhere and trapped in the mountains.
And again, another natural calamity earthquake happened, and the mountains were tumbled down into the river, and among them, the Larimar stones were also found by a priest. He understood that these were not ordinary gemstones, so he sent him to the lab for testing. And there were considered the semi-precious gemstone, and they had become the most crucial source of income for people in the Dominican Republic.
How was it named?
The priest who found these gemstones had a daughter, and he decided to keep the name of the stone on her's name. So the first four-letter of the term "Larrisa" (Daughter of priest) was combined with the word "mar," meaning water or sea.
Appearance 
Larimar stone belongs to the pectolite mineral family and has a composition of copper and iron, which is why its bluish-green color. Moreover, it has white bubbles on the surface, which enhances its glam, making the person look beautiful. Transparent to translucent, the clarity of the gemstone alters. The stone ranges from light to intense dark blue color, one of the most demanding gemstones. It has an elegant, velvety surface that brings calm and balances to the wearer. In addition, it has many healing properties; let us now know them.
Healing properties of Larimar 
The majestic blue Larimar consoles the worries and relieves the mind, body, and soul, healing the individual physically, spiritually, and emotionally. Likewise, it enables the crown and Throat chakra. Wearing a larimar ring promotes inner wisdom and allows the wearer to speak confidently with all their heart. This gemstone is known for its calming and healing properties worldwide. People buy this stone for wearing it for daily purposes.
Moreover, it can dissolve self-sabotage, bringing clarity to thoughts and feelings. As a result, one can express themselves better as this stone develops confidence. In addition, it relieves the issues related to anxiety, stress, and depression.
Styling tips
Larimar gemstone jewelry looks great with all kinds of attires, mainly formal office wear. Shades like black, dark, or navy blue, brown, gray match, especially with the Larimar jewelry. Even this jewelry can be worn while attending wedding functions or causal parties.
Caring tips
Larimar is comprehended to be a delicate, brittle gemstone. Therefore, one should keep it safe by keeping it away from perfume, make-up, lotion, hand cream, and hard chemical soap. It should be the first thing to be removed after returning home and cleansed with a smooth, dry cloth after every use. Make sure not to rub it too hard.
If the stone is set into sterling silver, then make sure to protect it from getting tarnished, and for that, you can keep it in a dry place. For example, remove the stone while washing dishes or clothes or gardening. In addition, keep it protected from sunlight as it can fade the gemstone's color. Finally, never use any steamer or an ultrasonic cleaner to clean the stone; otherwise, you would use the originality of the gem.
Where to buy this gemstone from?
While finding the correct and the most authentic place to buy the wholesale collection of Larimar, we found the website Rananjay Exports. It is an Indian-based website that deals worldwide in more than 150 gemstones. They have great designs for each product, which are loved by witnessing them at first glance. No customer would deny buying these gemstones, and they are majorly found in the form of a ring, pendant, necklace, bracelet, earring, and many more. You can even earn the reward points while registering with this website, which can be redeemed while ordering your collection. So have a great time while buying your collection.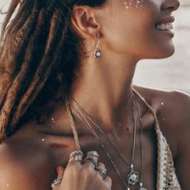 My name is Jenny Thomas . I have been serving Rananjay Exports under the capacity of product manager for more than 5 years.