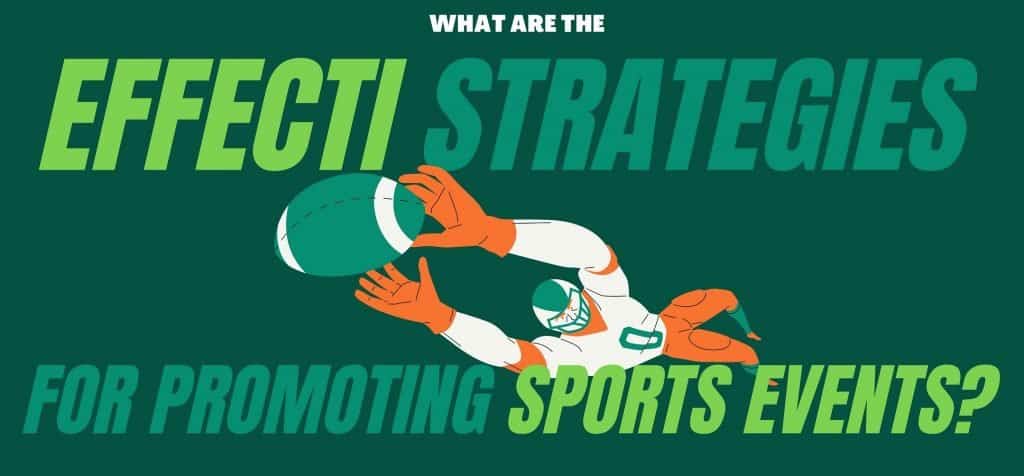 All event organizers want to get rush of the targeted audience at the event place. It is possible only when you have successfully done the marketing of this event. An effective marketing strategy will help in connecting the audience with the event.
During sports events, the volume of attendees is not just a number. But it will help in determining the success of the event. It is imperative to have so many participators and spectators in the event. It is very important to fill the venue with various sports teams and fans as well. If you are planning to organize a sports event, then the following tips will help you to efficiently promote your event.
1. Create Catchy Sports Event Name
The first promotional trick is that your event name should be catchy and attractive. Your event name will be the first thing that participants will interact with. You should take your time while choosing a name for your event. You should do brainstorming with sponsors and teams so that you get an attractive idea. While choosing the event, you should make sure that it is simple and attractive such as Olympics, Super Bowl, etc.
2. Create Promotional Items
Once you have decided your event name, then you should start creating promotional items that can help in spreading awareness. Well, digital advertisements are also important. But you should not ignore the importance of these kinds of promotional products. You can create banners, embroidered customized apparel, and accessories.
These kinds of promotional products are still effective in spreading awareness. When people see banners, posters, custom embroidered t-shirts, hats, accessories, etc then they attend the event.
These kinds of promotional items increase the probability that they get a huge volume of attendees. You should create the embroidered products and create the logos of the sports team who are going to be part of this event.
In case, if you are organizing an event for football teams, then you should embroider the logo of those teams. For example, the LSU team is participating in the event then you should embroider the LSU logo vector on promotional items.
3. Take Help Of Influencers
It is an undeniable fact that people can relate better when they hear something from influencers. If you want to attract more sports fans and various other potential participants, then you should take the help of the person who is revered in the field.
You should wisely choose the influence because your choice will be going to affect your marketing efforts. While choosing the influencer, you should ensure that they have the proper information and they can easily reach for clarification.
4. Use Social Media Platforms
If you want to promote your event to a broad audience, then you should use various social media platforms. You should regularly promote your event on different social media websites such as Facebook, Instagram, Twitter, etc. All these platforms will provide you an opportunity to get engage with your potential audience.
5. Independent Promotion By Sponsors
Sports marketing is not just about advertising sponsors during the time of sports events. Sponsors should also run the promotional campaign before the events. Usually, the marketing done by the sponsors can help in creating a buzz in the market. Usually, the sponsors create their marketing strategy. But you can work with them for making your promotional activities more effective.
6. Leverage Online Ticketing Platforms
Purchasing tickets at a specific physical location is quite difficult, especially for older adults. In our busy and hectic lifestyle, we do not have much time to visit the specific location to purchase event tickets. Therefore, it is recommended to the event organizers that they should leverage an online ticketing platform.
It has been observed that events with online ticket booking facilities have more participants as compared to the event that does not offer an online ticketing facility. If you will provide an online platform for booking tickets, then you can easily achieve success. By selling your event ticket through an online reliable source, you can make it easy for interested participants to book their seats.
7. Custom Giveaways
Attractive giveaways can create buzz. Therefore, you should custom giveaways to your targeted audience. For instance, a custom embroidered t-shirt with the sports teams who are going to participate.
It will give an idea to your audience, who is going to participate in the event. For instance, if you want to attract the fans of the Pittsburg Steelers football team, then you should create the Steelers embroidery design on promotional items.
Final Words
By knowing and implementing all these strategies, you can easily make your marketing campaign successful. You should try to make the most of various promotional opportunities. Along with online marketing efforts, you should not forget to do offline marketing.
Afzal Ahmad has a solid history in creating fascinating material that offers genuine value to a blog, website or company. He's a nerd of sports and he likes talking about sports.