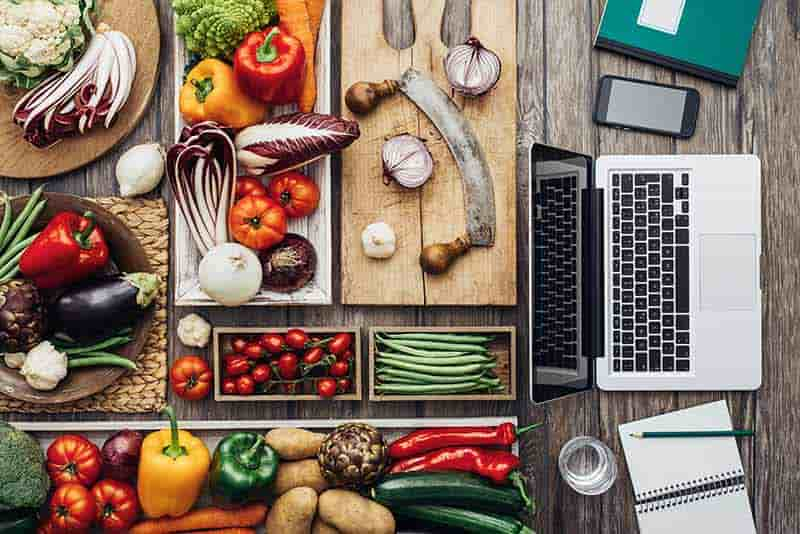 There has never been a better moment to start an internet food business than today. While beginning a business on the internet may appear to be a daunting task, it is also necessary.
Let's look at some fundamental procedures for starting an internet food business.
1.
Determine your unique selling proposition (USP)
The demand for your food is determined by the services you intend to provide to your clients. What you have on your menu will influence your clientele, whether home-cooked meals or a particular cuisine. So, consider your assets and determine your unique selling proposition.
It could be serving Maharashtrian, North Indian, Mughlai, or South Indian specialities or serving home-cooked, pre-packaged snacks. Always remember to play to your advantage. Sticking to a specific cuisine or type of food that you know will only benefit your business.
It will be easy to target customers after you've found that niche. Once you've decided on your USP, you've cleared the first hurdle to get your business online.
2.
Identify Your Target Market
When it comes to meal delivery, it's usually a good idea to have a general concept of who you want to target. You may tailor your service to meet their specific requirements if you're delivering food to businesses, individuals, or new families.
For example, if you cater to offices, you may include plans for meal boxes. Alternatively, you could offer regional meals based on primary research into the types of people who live in the area – for example, if you operate in an area with Gujrati residents/bachelors/students, you might consider offering pure veg/Jain food to meet their needs and suit their demands and lifestyle.
3.
Obtain the Required Permit
Obtaining the necessary permits is crucial in beginning an internet meal delivery business. To avoid any future legal complications, the relevant licences should be obtained. Licenses such as FSSAI (for quality and safety), GST registration, health trade licence, and trademark registration are required to start food delivery services in India. These licences are available for purchase locally. You may get all the information you need regarding this process from your local Municipal Corporation.
It may appear to be an unnecessary expense at first, but it will pay off in the long run and save you a lot of headaches as your company grows. There may be more information available on beginning a food delivery service, but these are some essentials that will help your business succeed.
4.
Concentrate on your service areas.
Put your boundaries for service areas unless you have the financial means to set up extra kitchens to expand your service area. Naturally, you want your food to be known for its flavour and quality. Maintaining the quality and freshness of the food in the meal delivery industry can be difficult. It would help if you designated a particular area or locale to operate or deliver. The freshness of your food may be jeopardised if the locations are too far apart. Setting certain areas to focus on as a starter in the food delivery business is fantastic. If you serve home-cooked meals, for example, you can choose a neighbourhood near you populated by students or working professionals whatever your target customer is. This will ensure a steady stream of customers.
Establishing such characteristics can steadily boost your company's growth pace. It will assist in increasing the number of customers in that area who favour your service due to its flavour and quality. In such cases, giving you word-of-mouth publicity is also a superior option. If you like, you can gradually start increasing your business. Starting small and establishing a stable customer base while maintaining a solid reputation is a better strategy for a new firm.
5.
Work out the logistics
Having dependable delivery workers is as vital as having good cuisine for an online meal delivery business. You can use one of the known delivery networks or set up your minor system, depending on the size of your company. Depending on business needs, you can hire a single person or a team to work in-house. Conduct a comprehensive background check before hiring them since they will play a crucial part in your company. Because it directly impacts your business, establishing a solid delivery procedure mechanism is just as vital as preserving food quality. To help your business succeed, choose people you can trust and rely on.
6.
Get Started with Dukaan Online
Going online may be a challenging chore, but it is not as difficult as you may believe. The meal delivery industry is flourishing, and this trend is likely to continue for many years. This is the most significant moment to get started if you enjoy cooking and want to operate a food-related business.
While there are numerous variables to consider when beginning an internet business, the good news is that technology makes it all possible and does it quickly. Lack of technological know-how, setting up online properties such as a website, payment gateway, and so on are some of the obstacles that prevent small business owners from getting online.
Setting up an internet business, on the other hand, is a must because it expands your customer base. An online store aggregator may be preferred since the functionality provided by an e-commerce platform cannot be matched by your social media platforms or even your website.
Source: ecommerce platforms, online selling platform
Shopcada, is an ecommerce platform in Singapore.