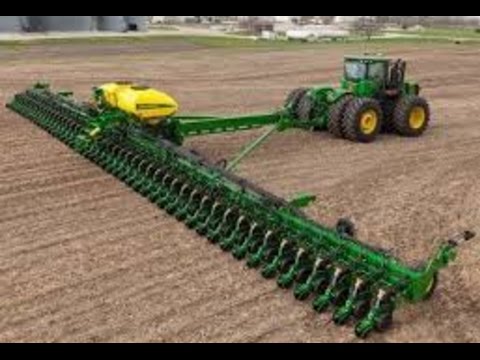 With increasing food consumption, farmers require increasing their crop production. Moreover, this calls for increasing manpower, which invites hefty costs. Thus, modern farming implements were introduced to reduce costs and increase efficiency. The purpose of these implements was to speed up farming activities and add to profitable yields.
So let's understand what farming implements are, along with the types of farming implements that are popularly used. And we will also list reasons why farmers should invest in these technologically advanced implements.
What are Farming Implements?
Agricultural or farming implements are machines or tools that are tractors or self-driven. They help prepare and cultivate the land for a better harvest. Their role is to speed up the farming process and reduce laborious acts.
Top Farm Implements Used in Types of Farming
Farmers today have a range of options regarding farming equipment or implements. Here are a few popularly used farm implements that help improve farming efficiency and productivity.
Rotavator, also known as rotary tiller, is tractor-driven farming equipment. The purpose of this land tillage equipment is to plough and prepare the land. The Landforce rotavator is a popular implement that helps prepare the soil by mixing, cutting, pulverising, and levelling the soil.
A cultivator is another farming equipment used for secondary tillage after a rotavator. The device has a rotary motion and helps toss the soil with its disc or teeth-like structure. Other than cultivating, the device is also helpful for uprooting weeds & decaying crop residues.
Disc harrows have concave metal disc-like structures. They are used for soil tillage in the area where crops are supposed to be planted. The tool is also helpful in uprooting weeds and decaying the crop residues in the field.
A baler machine is a farming implement that is used to compress and compact crop residues, fodder & farm wastes. It helps create the square, rectangular and round-shaped bales that are easy to further transport, process, and recycle.
The seed drill machine is an agricultural device used to sow seeds at the proper depth & distance. These tractor-driven machines ensure seeds are properly covered in the soil and are protected from the farm animals, rodents or birds. A seed drill machine reduces labourers' time and efforts tenfolds.
A combine harvester is modern-day farming equipment that helps harvest various crops. Its purpose is to help with crop collection, reaping, threshing, cleaning, and hauling. There are two types of combine harvesters — self-propelled and tractor-driven. Both have the same purpose, but the application is different. Farmers now don't have to buy ten different harvesting tools to process food grains for final consumption.
Why Farmers Should Use Different Farming Implements?
Farm mechanisation solutions can help farmers with various purposes. They can help cut costs, reduce manpower, and deliver more productive farming outputs. Let's discuss some benefits of using farming implements.
Enhances the Quality of Uneven Land
The best thing about these farming implements is they can make any uncultivable or uneven land ideal for farming. Farming implements like land levellers are manufactured with advanced technology that helps break soil clods and level the land surface.
Earlier farmers' had to work hard in the sun to dig and sow crops. But now, farmers can use modern farming technology like seed drill machines to speed up the sowing process. These seed drill machines help sow seeds at the required depth and distance. In addition, it protects the crops from animals or birds hovering over the field.
Reduces Labour Costs & Increases Profitability
These farm mechanisation solutions help speed up the farming process. They provide great efficiency and effectiveness in any work related to sowing, planting, harvesting or post-harvesting activities.
Since these machines are equipped with modern technology, they reduce redundant tasks and minimise the cost of labour. Moreover, being very precise in tasks, they provide productive outcomes in fields.
Gives Higher Yield in Short Span
With farm implements, farmers' efforts get reduced. These devices are engineered with the purpose of increasing farming efficiency and adding to the outputs. Manufactured with advanced technology, these machines help perform farming activities with great efficacy. Thus, the results achieved in the end are productive for the farmers.
Farming implements often have less downtime. Being technologically advanced, they require less maintenance. Moreover, farmers won't have to worry about getting them frequently repaired, just like tractors or farming vehicles.
Available in an Affordable Price Range
Farming implements have one-time costs. After investing in them for once, farmers can gradually reduce their labour costs. The best thing is these farm implements vary by horsepower. Thus, implements with less hp range are less expensive and implement with more horsepower have an increasing price range.
Farmers can evaluate their land and tractor capacity and accordingly buy a farming implement or a mechanisation solution.