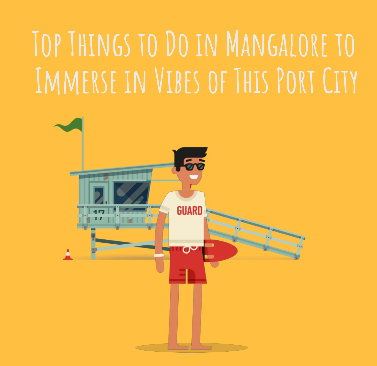 Mangalore is an extremely buoyant town hawked by majestic streams flowing into the Arabian Sea and coconut palms in the backdrop. It attracts tourists from different parts of the world to witness its scenic beauty and bubbly vibes. The port city Mangalore has stunning sandy beaches, parks, and magnificent temples that will surely blow your mind away. Many international travelers have Mangalore on their exploration list and specially buy air tickets to India to visit this coastal paradise in Karnataka.
So if you are flying to Mangalore soon, here's a list of the best things you can do in the city to add up thrill to your vacation in this mesmerizing port city:
Panambur Beach: Perfect to Stroll Around
Panambur Beach is one of the best places to visit in Mangalore. Located just 13 km from the city center to the south of Mangalore port, this beach has gained popularity for its events and carnivals. Many events like boat racing, sand sculpture making, and kite flying are the best things to enjoy here. Panambur Beach is also the cleanest beach you will see in India. If you want to escape the serenity and peaceful vibes of nature, Panambur Beach is the best place to spend some quality time.
Bejai Museum: Have a Look at the Rich Heritage
As Mangalore city has many things to see and enjoy, however visiting Bejai Museum will offer you an extraordinary experience. Bejai Museum is an ideal place for all the history buffs and is also known as the city's heart. It is the only museum located in Mangalore and has a collection of ancient paintings, coins, inscriptions, and statues that display India's rich heritage. So if you are a history buff and plan to book flights to India, visit Bejai Museum in Mangalore.
Kadri Hill Park: Best Place for Family Picnics
A visit to Kadri Hill Park is one of the most fun-filled things to do in Mangalore. It is considered the largest park located within the city limits. Kadri Hill Park is an ideal getaway for family picnics and gets together during the weekends. It is located adjacent to the animal conservatory, where you can spot numerous kinds of rare birds, sambar deer, reptiles, and many other animal species. Some nearby attractions of Kadril Hill Park are Kadri Sri Manjunatha Temple and Pilikula Biological Park.
Sultan's Battery" Explore the Mini Fortress
The famous Sultan's Battery was constructed in 1784 by the very famous Tipu Sultan toward the entry of warships into the Gurpur River. The whole battery is made from black stones and has been built in a design of a miniature fortress. All the Visitors can also relish panoramic views of the Arabian Sea with lush green at the fort's top. The view from the top is the real visual treat for nature lovers. With scenic views, lush green lands, and the Arabian Sea, Sultan's Battery is an ideal place to visit for all nature lovers.
Mangaladevi Temple: Witness Pooja Rituals During Dussehra
Suppose you book your air tickets to India during the Dussehra festival. In that case, you can head to Mangalore to witness special festivities and rituals at the time of the Dussehra festival. Mangala Devi Temple is located 3 kilometers from the city center in Bolar. It is dedicated to the goddess Parvati and traces back its roots to the 9th century, and is considered the holiest place in Mangalore. Many tourists and devotees from across the world come to see the colorful vibes and festivities at the time of the Dussehra festival.
Kudroli Gokarnath Temple: Watch the Stunning Murals
If you are in Mangalore, then visiting Kudroli Gokarnath Temple is one of the best things to do here, as without visiting the temple, your trip would stay incomplete. Specifically dedicated to Lord Shiva or Gokarnanatheshwara, this temple was constructed by the Billava community, who were not allowed to enter the temple region. There are many surrounding temples near Kudroli Gokarnath Temple, and the main temple is designed in Tamil Nadu style and is decorated with great mythological legends murals. After visiting the temple, you will surely be enticed by its beauty and mural designs.
Gajalee Restaurant: Relish the Mouth-watering Dishes
If you are in Mangalore, then there's no chance you can miss the great food dishes served here. One of the best restaurants you can visit is Gajalee Restaurant which is counted amongst the top 100 restaurants in India. It is located on a hilltop with stunning scenic views, and one can feel the old charm of the British era while dining at Gajalee Restaurant. The eatery serves the most delicious seafood in town. So whenever you plan to visit Mangalore, visit Gajalee to fill your stomach with mouth sumptuous and drooling food.
New Mangalore Port: Visit The 7th Largest Port
New Mangalore Port is considered one of the major ports located in Karnataka and is also the seventh-largest port in the country. Most of the primary materials or products like iron ore, concentrated, coffee, manganese, and pellets are exported from here, and other commodities like petroleum products, wooden pulp, liquid ammonia, and other things are also exported from New Mangalore Port. If you plan to book air tickets to India, you cannot miss going to the New Mangalore Port. There are also many other nearby attractions like Kadri Manjunath Temple, Jami Mosque, and Kudroli Gokarnath Temple.
Whether you are looking for spiritual healing or some dose of nature in your life, booking air tickets to India can result in a surreal vacation experience. MyTicketsToIndia is a popular air ticket booking website that provides cheap flights to India from several international destinations at low prices. They offer plenty of flight deals and discounts with a perfect travel itinerary for India, which will surely suit all your requirements and budget. Whenever you plan to visit India, do check out the flight deals for India available on the MyTicketsToIndia website.
Faizan is highly experienced in creating engaging content that adds real value to a blog, website, or brand. He is an SEO expert and he loves to travel and he also loves to write about traveling.