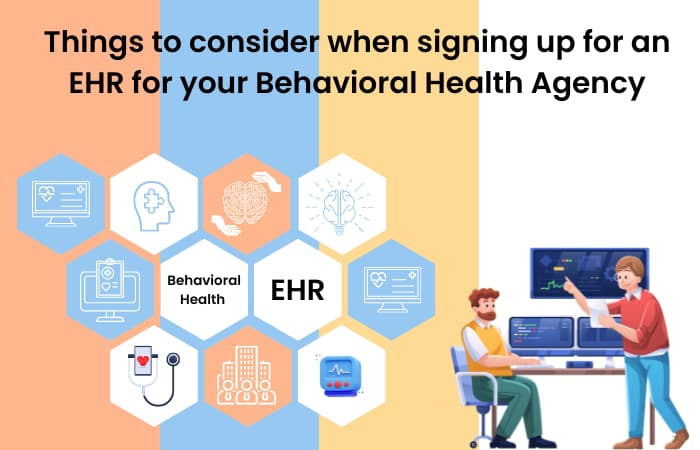 Electronic health record (EHR) platforms are essential in present-day health care. But selecting the right EHR platform can be a challenging task.
Are you tired of using obsolete and imprecise electronic health records? Do you want to find the best EHR platform to optimize your behavioral health practice and enhance client care? Look no further! This guide will walk you through the essential factors to remember when selecting an EHR platform for your behavioral health agency.
Things to keep in mind when you are going to choose EHR platforms
Most providers interact with EHR platforms for a significant portion of their working schedule. Therefore, purchasing and incorporating an EHR platform necessitates you evaluate your objectives and implementation goals.
Your EHR platform is a central data center for other healthcare professionals, enabling you to compare notes, organize treatment, and deliver top-notch service. So following are the things to remember before selecting behavioral health practices software.
Industry experience
It is best to look for an EHR software vendor with an established track record, extensive knowledge of case record management, documentation, and service delivery, as well as years of expertise.
Ensure that your EHR software vendor is aware of upcoming federal and state regulations, industry changes, and best practices and that they are recognized as a leader in the field. So ask for references from reputable sources who have experience working with them.
Security
Security is among the first things to consider when choosing an EHR platform. All practitioners are required by the Health Insurance Portability and Accountability Act (HIPAA) to ensure the security of client data in EHR systems. Still, some individuals may be concerned about cybersecurity and client data breaches. For this, it is essential to work with an EHR provider with evident security protocols to defend your business to ensure that only authorized users can access EHR platforms.
Simplicity of use
Easy-to-use electronic health record solutions will allow you to do regular tasks quickly, giving you more time to concentrate on your clients.
An EHR system that is simple to understand and user-friendly is essential for behavioral health practitioners. A complicated system can lead to ineffective quality care and a higher risk of burnout. Therefore, when selecting an EHR platform, prioritize ease of use and simplicity.
Requesting free trials can be a great idea since many vendors provide them nowadays. Additionally, think about the staff using the platform daily and plan staff training. Even more complex platforms might become easy to use with the proper training. Accurate training will result in more efficient practice and reduce stress on your staff.
Reporting and analytics
To effectively and efficiently meet auditing and compliance needs, an efficient EHR solution should provide analytics and reporting capabilities that will enable you to produce detailed reports as required. Not only will this make it easier for you to run your behavioral practice smoothly and efficiently, but it also enables you to provide quality care and support to your clients.
Integration and interoperability
Interoperability refers to the capacity of one EHR or health system to share information with another EHR or health system. A top-performing electronic health record system will possess strong interoperability.
This refers to having the proper knowledge at the right time for better client results in everyday practice.
Before the digitization of records, healthcare providers faced delays in communicating and coordinating patient care. However, with electronic health records, providers can quickly access and share information, improve treatment coordination, and deliver more efficient care.
Flexible and scalable
Look for an adaptable solution that offers a wide range of features, serves various behavioral health requirements, and is scalable to meet your agency's needs both now and in the future as you expand. It will assist you in reducing the risk that your EHR will become outdated as your practice develops and adapts to the continuously evolving healthcare environment.
Cost
While the initial cost must match your agency's spending plan, there may also be long-term costs involved with EHR systems. Some systems require specific equipment, interfaces, training, connectivity, annual fees, and support resources. Your agency should consider these extra services to understand how much the EHR system will cost.
If your organization intends to connect to a health information system or exchange, this expenditure should also be accounted for. When figuring out the cost and the time it will take to recover your initial expenditure, you should also consider your return on investment.
Final thoughts
Electronic health record (EHR) systems can help save time and finances, be more effective, and ensure your clients are satisfied with the services they receive. Efficiency is essential whether you are just beginning with EHR systems or want to replace your current software. Say goodbye to the hassle of manual record keeping and leverage the future of behavioral healthcare with the ideal EHR platform. To learn more and get a demo of the ZKare EHR solution, click here.
ZKare: EHR Software for Mental & Behavioral Health and Development Disabilities