Undoubtedly, everyone feels amazing and confident when they look good. However, looking good can be tedious, especially if your makeup routine is extensive. It is a beautiful routine, but sometimes you probably wish it would get easier and simpler.
The biggest issue that occurs while putting on your makeup is the eyebrows. The trends are changing; your eyebrows may be naturally thin, and getting them to look even is a struggle. There is also the struggle to get your eyeliner to look perfect, to get the perfect shade on your lips… the list is long. Luckily, a nice little trend of semi-permanent makeup procedures has emerged, and people love it! So, let's see all the benefits of this great trend.
It Looks Natural
As we age, our lips tend to lose color, the skin tone fades, and eyebrows start thinning. But, to feel confident, you love looking good, and sometimes good old makeup won't do the trick. That is why semi-permanent makeup is a good solution. Moreover, these treatments will help you achieve that natural glow, and all the results always look natural. Whether you decide to add some pigment to your lips and cheeks, get a semi-permanent eyeliner or go for powder brows treatment, you will look naturally beautiful. Plus, you won't have to spend hours to get that eyeliner look good or eyebrows even, and there won't be any unnecessary shine. 
Easy To Maintain
The biggest benefit of semi-permanent makeup is that it is easy to maintain. Celebrities, professional businesswomen, and even ordinary girls love this solution since they are promised an elegant look at all times with minimum effort. Unlike regular, semi-permanent makeup cannot get smeared, wet, or rubbed out. It will stay on and guarantee an enhanced look without the fear of getting it smudged. Plus, you don't have to reapply constantly; go for a touch-up from time to time, and that's it.
Saves You Time and Money
As mentioned, semi-permanent makeup is effortless, meaning you can save time on getting ready. If you have powder brows, you don't have to spend time getting your eyebrows ready. If you have done eyeliner treatment, you don't have to struggle with getting it to look perfect, etc. This is a nice way to look great without wasting time and effort.
Also, even though semi-permanent makeup treatments can be costly, they save you plenty of money in the long run. Whatever treatment you choose, you won't have to buy makeup to touch up your look constantly. So, you can easily save hundreds of dollars on lipstick, eyeliners, pencils, powder, and many other products. Plus, you will produce less waste in packaging and help save the environment.
It is Safe and Hypoallergic
People with highly sensitive skin often find it difficult to find good makeup products that won't damage their skin. Searching for brands and products that are non-allergic or too harsh can be a tedious process of trial and error which can irritate the skin and provide struggle. People often have allergic reactions, acne, eye irritation, and other issues.
With permanent makeup treatments, there is no struggle or allergies. All the solutions come in safe and sterile cartridges that are only used once per person and are completely hypoallergenic. Moreover, all the treatments are safe and healthy since makeup artists are all trained professionals that follow regulations and guidelines in performing the procedure that ensures safety during and after the treatment.
A Boost of Self-Confidence
We all feel amazing when we look good, and semi-permanent makeup can help. With these treatments, you don't have to worry about looking like a mess if you don't have your makeup on. Since this provides a natural look, you will always look effortless and tidy even though you haven't touched your makeup that day.
Always looking nice is a major self-confidence boost, especially if you struggle with your eyebrows that have scars or are too thin. The same goes for any other facial area; semi-permanent makeup can help you resolve any self-image issues.
It Lasts for a Long Time
Once you get a semi-permanent makeup treatment, you know that you will have beautiful makeup for years. Usually, this type of makeup lasts up to 5 years, so you don't have to worry about it for a long time. You don't have to wipe it off before bed or reapply it in the morning; you can get up and prepare for the day.
Semi-permanent makeup has become a major trend. Everyone loves experimenting with these, especially since they bring plenty of benefits. So, if you are looking for a good reason to try these procedures, hopefully, these five benefits are enough.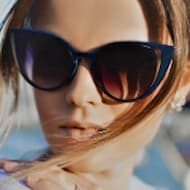 Claire is a passionate beauty blogger who loves sharing love and tips about beauty.