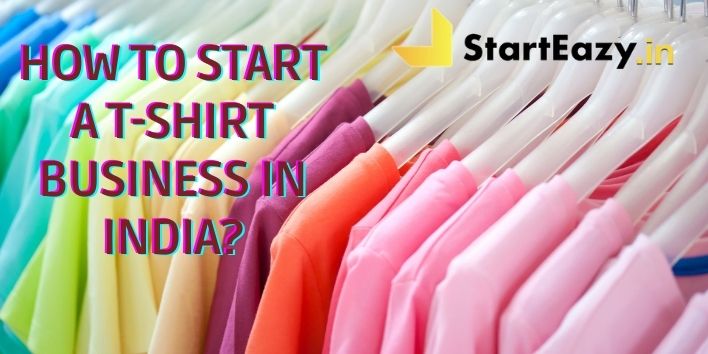 Comfy clothes are a new luxury today. Above all, as everyone is working from home, they prefer T-shirts to wear. Also, simple T-shirts are out of fashion, and everyone wants to look fashionable. Thus, if you are looking to start a T-shirt Business in India, I got you.
If you want your business to be successful, you need to do a lot of research and design quality products that people want to buy.
Steps to Start a T-shirt Business in India
Part 1 – Planning and Registering
Identify your Target Market
The T-shirt market has evolved so much. Therefore, if you intend to compete with all T-shirt businesses, it may take an eternity unless you have something unique. So instead, what you should be doing is focusing on a single target market or niche.
Find out more about other shirt sellers who have a similar niche market. For customers to choose your product over your product, you need to anticipate the competition at all levels.
Hire partners and other employees
You may need to hire people who can help you and delegate tasks to others. Therefore, you should focus on those aspects of business and engage partners that can help you relax.
Choose the Best Printing Method for Your Business
T-shirt businesses use three main printing methods:
Screen printing,
Thermal transfer printing,
Direct printing on apparel.
Each option has its pros and cons, so you should determine the best fit for your business model.
If you set specific business objectives, it will be easier to determine where your work is oriented. If you don't have a purpose, you can start working, resulting in difficulty in your business.
Organize your financial records
Before you can even go into the design phase of your business, organize your finances. You must understand what your financial situation is. In addition, you should ensure that your financial position is to ascertain in the process.
Even if you only have two or three designs, you should market them as part of a brand rather than selling them individually and anonymously. All shirts within the same brand should have the same material and quality.
When you start a T-shirt business in India, the first thought should be to register your business.
It is the most crucial step to make your business legal. Thus, go for quick and easy online company registration and get your business registered.
Part 2 – Designing and Developing Product
When you look for how to start a t-shirt business in India, you should also know about designs and current fashion.
T-shirts don't need to have intricate images and slogans. To excel in a flooded market, they need to be fundamentally original. You can make all the designs yourself, but if not, you can make something that works with a designer.
You will need to review the look of the design in the drawings of the digital model before finalizing it. Customers should see the design before buying a shirt, so the same images should be available to customers as soon as you start selling them.
Use good quality material.
When selecting blank shirts for your business, you should take your time and consider that they are comfortable materials.
Get the Right Printing Press
You should use the services of a professional printing company, regardless of the printing method you choose, to determine which printers are the best for your company's needs with the best price and service. Should do a little investigation
Test the quality of the final product
To test the quality of your product, ask for or print a sample because if you want your business to be able to grow beyond the first months, you must sell good quality products.
Part 3 – Selling the Product
Choose an online sales platform to host your business online or on your website. Each option will have its pros and cons.
Most of your sales will take place online, so this will also be the case for most of your advertising. Many forms of online advertising are free, which will be very useful if your marketing budget is not too broad.
To sum up, starting your own business is a dream of many. However, not everyone can fulfill it. The reasons could be lack of guidance, funds, or anything. But with appropriate guidance and sincerity, you will achieve your goal. Be ready for the exciting journey of your T-shirt selling business online and on your store offline.
So, I have explained everything you should know about How to start a T-shirt Business in India. But, if you still have any confusion, consult an expert and start your business quickly.
StartEazy is a leading online company registration brand, concentrating on new company registration.