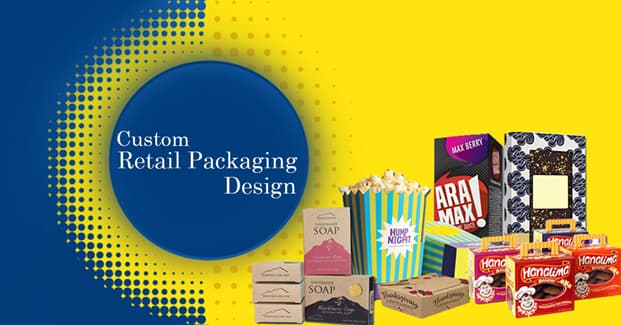 No one declines the importance of good packaging of the products. A premium-built packaging leaves a great impression in mind about the product itself and business. Many products are bringing very creative types of packaging and boxes for their products; as a result, buyers are equally excited about new packaging as they are excited about the actual product. Now beautiful retail packaging boxes get more attention than old regular designs.
Due to this evolving trend, you can see tons of videos on YouTube related to exciting unboxings. In addition, many YouTube channels only make unboxing videos and mention details in creative designs of boxes. So, businesses need to know the importance of custom packaging.
Below we are going to share some of the creative ideas to thrill your potential buyers. This packaging strategy is the whole game to attract customers and make the business prosper.
1- Exhibit Your Brand
You will see most renowned brands use slogans and many creative writings with their brand name; for example, McDonald's uses "I M Lovin It!" and anywhere people see this word written, they know it's McDonald's ahead. Similarly, it would be best to display your brand with a creative expression, and it will be a good idea to print on the most prominent site of the customized box. Your box is your communication with the potential buyers. If you communicate excellently, then you will be able to gain buyer's trust.
2- Send Creative Bill Designs
While you are in an e-commerce business, you need to send bills, and pre-printed return slips with the package. Invoices are always shipped in a regular accounting structure; this should also be creative, don't you think? It means that there is a paper added to your packaging that can be used for your promotion as well. You can use some painting or beautiful writing on those papers to look different. There are some brands seen printing doodles on their invoices to make some difference among other competitors.
3- Customized Tape with Customized Experience
While packing goods for shipping, everyone needs tape to close the ends of the packaging boxes. So why not use a customized tape with your brand logo on it. Typically, simple Kraft boxes are used for shipping purposes because they are cost-effective and protect your expensive product and premium custom packaging. However, if you use customized tape to pack your shipping goods, it will be easy to recognize the brand and product inside the box.
4- People Love Free Stuff
To increase the value of your business, you can add free stuff to your custom retail packaging. People love to find different freebies inside a box because this makes them feel a good value to the money they spent.
According to TotalRetailStudy.com, 49% of the buyers love to have gifts and giveaways in their newly bought products. Therefore, the giveaways technique rapidly increases popularity, loyalty, and repetitive purchase of your product. You can pack beautiful stickers or fragrance cards, or anything nice related to your product inside the delivered box.
Some sellers put extra items inside like if buyers bought something in a specific quantity, they add some extras separately to delight their buyers.
5- Use Premium Looking Embossed Sticker
Your premium customized packaging will look more excellent if you close your box with the embossed name of your company name sticker. Again, it's all about enhancing the unboxing experience for your buyers.
This sticker method will cost very little to the company but bring a good feeling and more loyalty for your brand. In addition, embossed stickers increase quality and luxury for your business and brand.
6- Try to Make Reusable Products and Packaging
Exactly like gifts make your customer feel value to the money, a reusable product that requires refills or something like that will make your customer feel at home while buying your product. In the same way, reusable packaging will also bring value to the business and directly impact sales. You can change your packaging to customized magnet enclosures. These magnet enclosures are highly reusable and rigid so, reusability will be a fantastic feeling for your buyers. While people reuse your product, keep in mind that your package with branding will be a walking advertisement for your business. Hence a little cost brings a lot of benefits to the company.
7- Value to FSC Certification
Get your product FSC certification to make an image of an eco-friendly business. Many people these days love to promote and support enterprises to use biodegradable and recycled materials for their product packaging. FSC certification stamp will increase your reputation in a particular market as well to enhance sales. Moreover, this method will bring the attention of earth-friendly NGO's and hence an easy promotion can be achieved. These certificates create trust in your product, and buyers do not hesitate to try it.
8- Use Reverse Folded Packaging
A reversible package is a package that can be unfolded and then folded in another way. You can use one side as printed and designed while leaving another side plain and pleasant. These boxes increase the reusability of your product; hence buyers can refold your package differently and use it as gift wrapping. Reversible packaging can help to bring less garbage into the surroundings. No one will throw a useable packaging box.
9- Classy Internal Styling
Some companies are enclosing a unique design inside their boxes that is they make outside a very clean looking white box with only one small logo, holding all designing and excitement inside the box. This design style creates a hype enclosed inside your parcel.
Conclusion
There are brilliant packaging techniques mentioned above to increase your product values and a considerable increase in sales. You should follow these steps to make your product packaging look brilliant. However, it is recommended to hire custom packaging designers like Impression Ville to handle all the technicalities for you. They have the best packaging team available to work on your product packaging. Just visit their website and see nicely designed packaging for almost every product. They use their instincts and techniques to boost your business using custom design packaging. Give them a try and increase sales for your excellent product.
Jessica knows how to create interesting content that offers true value for a blog, website, or brand. She creates content for several categories, such as technology, SEO, marketing, healthcare, education, career development, etc.